About Fitcert
The European fitness club certification scheme is based on the new European standards EN17229. In this scheme fitness clubs can be assessed against the criteria of the standards to show that they conform to good practice for their operations and management. The scheme has been developed so that clubs can independently demonstrate that they have high customer service standards, and provide a safe and appropriate environment for its users.
The status and progress of clubs that are in the scheme can be checked on a public register
Why FITcert is a gamechanger
The FITcert.eu scheme is divided into 5 stages: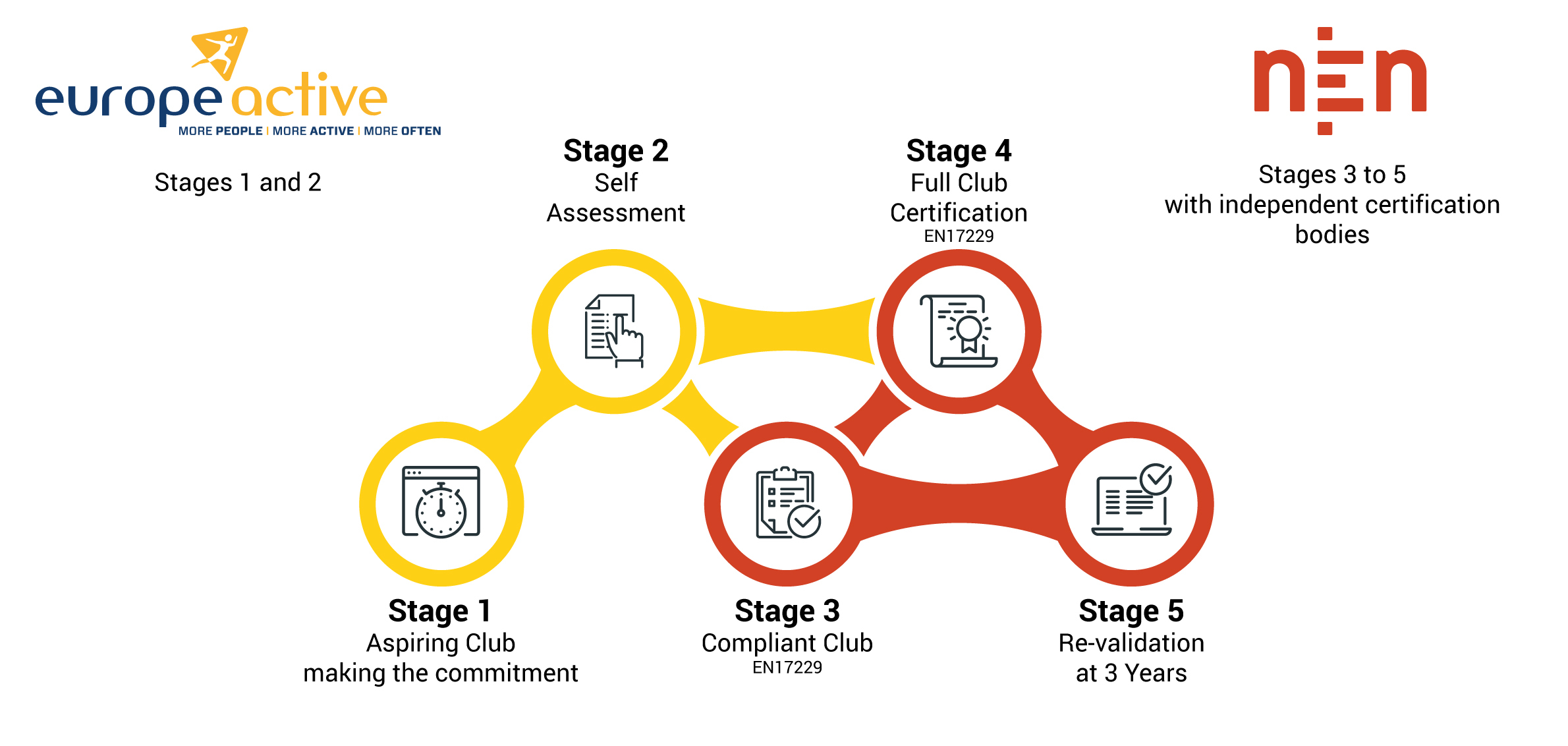 Stages 1 and 2
are the commitment to the scheme where pre-checking and validation is undertaken. Successful completion of stage 2 gives a club 'recognised' status by EuropeActive, the not-for-profit association for the fitness sector.
Stage 2
is a transition point where successful clubs progress to the next stages which are overseen by the Netherlands National Standards Body (NEN) and independent international certification bodies working to the requirements of ISO 17020.
Stage 3
is called compliant club. This is where the club will have to provide information and evidence that they meet core conformity requirements of the standard EN17229. This is confirmed by independent certification organisations following their detailed verification.
Stage 4
is called full certification. This is the 'gold standard' where clubs demonstrate 100% conformity with the requirements of EN17229.
The full requirements for conformity assessment at Stage 4 can be downloaded from NEN website at: https://www.nen.nl/en/ncs-17229-2022-en-298949
Stage 5
is the revalidation of conformity criteria for clubs at stages 3 or 4, and takes place every three years. The status of clubs can be checked on the public register here